Pancakes
are definitely among the top favorite
foods
of people all around the world, but they aren't always a healthy choice. That's why we decided to create a morning alternative recipe that will be both healthy and delicious. If you are a fan of pancakes but also follow a strict diet, then these are the right pancakes for you. A portion of
vegan
protein
pancakes enriches your body with
protein
for your
muscles
,
nuts
, and
seeds
that have anti-
inflammatory
properties among others and
berries
that boost your
energy
with their anti-
oxidants
. We're sure you'll savor every
bite
of this self-nourishing food!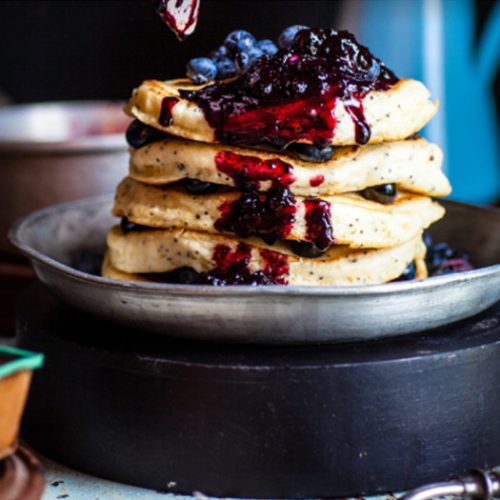 Vegan Protein Pancakes Recipe
Treat your taste buds with this super-simple, healthy and delicious breakfast
alternative!
Ingredients
For the batter
2

tbsp

ground chia seeds

20

gram

ground almonds

300

ml

almond milk

200

gram

oat flour

100

gram

unsweetened applesauce

2

tbsp

maple syrup

coconut oil, for frying
For the jam
200

gram

mixed berries

blueberries, raspberries, blackberries

2

tbsp

flaxseeds

1-2

tbsp

maple syrup

to taste

2

tsp

lemon juice
Instructions
To make vegan protein pancakes, take the chia seeds and mix them with 6 tbsp of water. Let them soak.

Mash the mixed berries in a pan. Put them on low-medium heat until they

become syrupy and bubbly. Remove the pan from the heat and mix in the

flaxseeds, maple syrup,

and

lemon juice. Let it cool.

Take the ground almonds, almond milk, flour, applesauce, maple syrup and a

pinch of salt and put them in a blender. Stir the chia seeds to check if they

became thick and gloopy and then add them to the mixture. Mix all until you

get a smooth batter.

Prepare a large frying pan and heat 1tsp of coconut oil on the medium fire.

When heated, add dollops of batter. Cook for a couple of minutes until bubbles

form on the top side. When the top turns to sandy color, turn over the pancake

with a spatula. Set aside and keep warm, until you repeat the process with the

remaining batter. Remember to add coconut oil with each pancake. You

should get about 16 pancakes.

Pile the pancakes one on top of the other and put jam between the layers. Make a

stack of a couple of pancakes and decorate the top with a spoonful of jam. If

you prefer, you can scatter some fresh berries and nuts as well. Enjoy!
Notes
You can also add Greek yogurt on top of the jam, between the pancake layers. And for garnishing the stack, you can use chopped (and/or toasted) pistachio or pumpkin seeds and hemp seeds. You can even add nut butter or figs if you like. These pancakes taste great with a chilled glass of flax milk!